The Women Airforce Service Pilots, or WASP, were the first female pilots to fly American Military aircraft. Because society held the view that women did not belong in a cockpit, these women had to overcome many challenges before ultimately proving themselves as more than equal to the task of flying complex, modern, aircraft.
Even though they faced a military un-willing to include them, the perseverance and dedication the WASP possessed, allowed them to serve their country in a time of great need, blazing a path for generations of women who would follow them into aircraft cockpits, and male dominated careers everywhere.
Though there would only be 1,074 Women who could call themselves WASP, their story provides an inspirational lesson about the power of self-confidence and determination. Teaching us that no matter what our dreams may be, working to make them real, will allow us to ultimately succeed.
What Was the WASP Program?
With the United States drawn into World War II, record numbers of American pilots were needed at the frontlines. Since only men were allowed to fly military aircraft, this created a shortage. There were not enough male pilots to fly airplanes at the frontlines, as well as on the homefront – where they were needed to move airplanes from factories, and around training bases.
There was a clear need for capable pilots, and even though women had been flying in air races and other such activities, demonstrating their capabilities, they were still thought of as unable to fly military airplanes.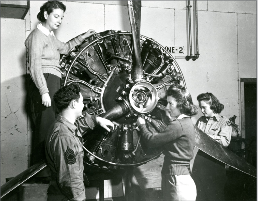 Desperate times however, called for desperate measures – and in 1942 women aviators were brought in to fly airplanes on ferry flights. This initial program would expand, and in 1943 the WASP program was formalized.
Even though more than 25,000 women applied only 1,074 would earn their coveted Silver Wings, becoming WASP.
The WASP flew nearly every aircraft type, from single-engine trainers to heavy bombers like the B-29 Superfortress. They had an assortment of jobs that included ferrying aircraft across the country and towing air targets for gunnery practice. Whatever the job, they were willing and able to answer the call.
The WASP demonstrated skill and ability to serve, but they were not given the same treatment, pay or military honors as their male counterparts. And, yet, they stepped up for the cause.
They served with distinction, hoping they would be accepted into the military for their important contribution to the war effort. Although the program ended in 1944, it would be 33 years before the WASP were finally granted veteran status.