The AT-6 "Nella"
Members of the CAF WASP Squadron fly the AT-6 Nella in airshows and display at events around the country in support of the mission of CAF RISE ABOVE: WASP. The aircraft is named after Fifinella, the mascot of the Women Airforce Service Pilots during World War II. Nella was an advanced training aircraft used at the all-female Avenger Field in Sweetwater, TX where the WASP attended military flight training.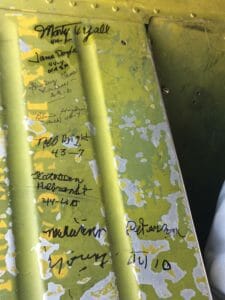 Flying Museum
Nella has had the privilege of flying several WASP during its tenure as the aircraft of the CAF WASP Squuadron. When one of these special guests takes a flight, the heroic, groundbreaking aviator signs her name to the aircraft's luggage compartment making this "museum without walls" a truly remarkable, one-of-a-kind artifact!
AT-6 Texan Specifications
Manufacturer
North American Aviation
Engine
One Pratt & Whitney R-1340-49 radial piston engine rated at 600 hp for takeoff and 550 hp at 8,000 ft.
Fuel capacity
Internal fuel 111 US gallons
Dimensions
Wingspan 42 ft. 0 in.
Length 29 ft. 0 in.
Height 11 ft. 9 in.
Operational weights
Empty 3,900 lb.; maximum takeoff 5,155 lb.
Performance
Maximum level speed 'clean' 182 kt (210 mph) at 5,000 ft.; normal cruise 126 kt (145 mph)
Maximum range 546 nm (629 miles)
Service ceiling 24,000 ft.
Armament
Provisions for one forward-firing cowl-mounted .30 cal. machine gun, one wing mounted .30 cal. machine gun, and one trainable .30 cal. machine gun in the rear cockpit (SNJ only)