Welcome to the WASP Squadron home page.
We're glad you're here.
     Education Materials
This Commemorative Air Force Squadron's Mission is to carry the Legacy of the WASP to the youth of the USA, through Outreach Education and public appearances, often accompanied by the Squadron's AT-6 (advanced trainer used at Avenger Field in Sweetwater TX during the training of the WASP). The Newsletters below are references for all of the activity that takes place, plus articles of interest. Enjoy!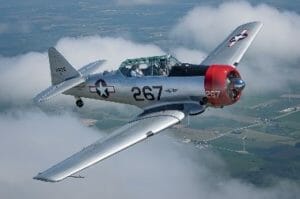 Squadron AT-6, affectionately called "Nella", with WASP Jane Doyle in the rear seat.
SUPPORT The Mission: you CAN make a difference!
Click Here: https://cafwaspsquadron.org/squadron-home/supporting-the-squadrons-education-mission-and-its-traveling-at-6/
NEWSLETTERS
CAF WASP Squadron August 2017 NEWSLETTER
As noted by historian James Baldwin, "History does not refer merely, or even principally, to the past. On the contrary, the great force of history comes from the fact that we carry it within us. . .and history is literally present in all that we do."  The mission of the CAF WASP Squadron is to honor the Women Airforce Service Pilots and use their history to inspire young people to overcome current day challenges to achieve their dreams; to make the WASP history part of everything they wish to achieve. The CAF RISE ABOVE educational initiative will encourage students to utilize six guiding principles: Aim High, Believe in Yourself, Use your Brain, Never Quit, Be Ready to Go, and Expect to Win.  The WASP Squadron delivers these principles in curriculum titled be SPUNKY : be Self confident, Positive, Unstoppable, Nice, Knowledgeable, Yourself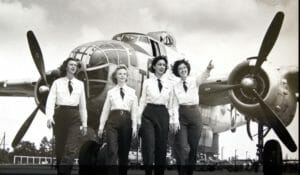 Engineering test pilots: Doris Burmeister Nathan, 44-W-1; Elizabeth V. Chadwick Dressler, 43-W-8, Dorothy Dodd Eppstein, 44-W-1, Helen Skjersaa, 43-W-8
North American Aviation B-25 Mitchell medium bomber  (U.S. Air Force)
THEN and NOW
Dora Dougherty, one of 2 WASP who flew the B-29, when asked about flying it  said she was concerned her hand wasn't big enough to cover 4 throttles and she wasn't strong enough to hold the controls. She tried, she succeeded. She reported that the B-29 was "the smoothest plane. . ." Dora also said with a grin, "It was so easy even a woman could do it."
Debbie Travis King, the only woman in the world since 1943 authorized to fly the Boeing B-29 Superfortress, is seen here with Dora Dougherty aboard the Commemorative Air Force's FIFI, one of two airworthy B-29s in the world and the only one that flies regularly.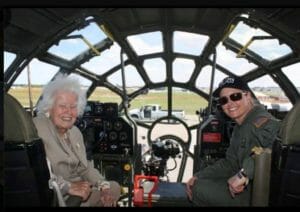 WASP Squadron Library
The WASP Story https://cafwaspsquadron.org/the-wasp-story/
Storytelling by Keegan Chetwynd  https://cafwaspsquadron.org/storytelling-by-keegan-chetwynd/
Media
Pilots/Airplanes/Kids at WASP Reunion 2017 in Sweetwater KTXS
Heather Penney at WASP Reunion 2017 in Sweetwater KTXS
CAF WASP SQUADRON LEADERSHIP
| | | |
| --- | --- | --- |
| Squadron Leader: | Ellie Dana | waspsquadron@att.net |
| Executive Officer: | Lisa Foster | waspsquadronxo@att.net |
| Finance Officer: | Beth Jenkins | bajpca@gmail.com |
| Adjutant Officer: | ——- | retsoflm@gmail.com |
| Maintenance Officer: | Mat Pedron | pedacft@centurylink.net |
| Historian | Elaine Webb | webb.belaine@gmail.com |
| Development Officer / Public Information Officer: | Kim Pardon | pardonb29@gmail.com |
| Education Officer | Sarah Zimmerman | twizzybeth@gmail.com |
| | | |
| --- | --- | --- |
| Operations Officer | Mark Novak | t6_av8r@yahoo.com |
| Safety Officer | Freya Shiller | freya767@gmail.com |