Dawn Seymour
Class 43-W-5
"I wanted to serve my country in a very active way."- Dawn Seymour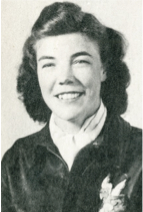 Dawn Seymour graduated Cornell University in the Class of 1939. She was 22 years old, and while she had not had tremendous exposure to flying, she had a favorite tree to climb when she was young, and had found something attractive about being "Up above."
Following her graduation, Seymour was approached by Professor Richard Parmenter who offered her a once in a lifetime opportunity. He explained that he had been tasked with running an experiment, under the Civilian Pilot Training Program – whereby he could accept one female candidate for pilot training, for every 10 students enrolled. Seymour had never glown before – so Parmenter took her over to the Ithaca Airport, and on October 16, 1944 she would take her first flight in a yellow Piper cub.
Seymour was dazzled by the sunbeams in the sky, and the way in which the land stretched out below seemed borderless. Seymour described herself as "Overwhelmed by the circle of land meeting sky," recalling that she enrolled in the CPTP test program immediately. To her delight Seymour was accepted and in May 1940 she received her private pilots certificate, having had only around 40 hours of flying.
Seymour recalls the flurry of activity, which surrounded the declaration of war, and like many would-be-WASP, Seymour was eager to put her unique skill set to use in service of the United States. Seymour recalled that "I wanted to be near as I could to the fighting." When she learned of the new WASP Program, she enrolled and was accepted for training as part of Class 43-W-5.
Following her training at Sweetwater, Seymour was assigned to Lockbourne Army Air Field where she was to be trained to fly the B-17 Flying Fortress. On her first flight in a B-17, the number three engine caught fire, and Seymour thought to herself "Oh my goodness, this is the airplane for me!"
Following the completion of her B-17 Training, Seymour would be stationed at Buckingham Army Air Field in Florida, where she would fly B-17s being used for gunnery training. Each day, she would take up a B-17 loaded with gunnery cadets, and each of them would take turns practicing shooting at moving targets, from the moving B-17. Seymour has more than 700 hours in the B-17.