Florence G. "Shutsy" Reynolds
Class 44-W-5
Reynolds, though she does not fly anymore, is often awakened by dreams where she is back in the sky, at the controls of a military airplane, remembering the WASP motto, "We live in the wind and sand and our eyes are on the stars."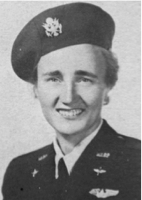 Reynolds was in grade school in Connellsville, Pennsylvania, when she professed her love of flying to her family. Reynolds announced at the dinner table that it was her intention to fly, a statement which was met with laughter from around the room. By her own recollection, Reynolds was not laughing – instead, in 1941 she would become the first woman to receiver her pilot's license at her local airport.
Reynolds notes that she did not have to go it alone however, explaining that her parents were supportive, in spite of their initial response. Reynolds said of her father "My dad lost a leg, and he never let anything get in his way" giving his young daughter a clear message "If you want it, you go for it."
Having graduated from high school at 17, Reynolds read about the Civilian Pilot Training Program, and decided to enroll so that she could learn to fly. Because Reynolds had spent the previous years reading everything she could get her hands on about aviation, she excelled in ground school – winning a scholarship for the flying portion.
When it came to joining the WASP program, Reynolds was no less dedicated and persistent. She was several months too young to join the program, which had a minimum age of 21, but Reynolds wrote to Jackie Cochran every day, until the age was lowered to 18, and she was able to join.
When asked why she became a WASP, Reynolds recalls a particularly interesting conversation about the War with her brother. "(I asked) how are we doing? And he said, 'I'll tell you one thing, we're not winning.' That brought me up short. If I could do anything, anything, no matter how small that's on the positive side for my country, I'm willing to chance it."
Like the other WASP, Reynolds completed her training at Avenger Field in Sweetwater, Texas, earning the coveted silver wings, and was posted to Merced Army Air Field in California. Reynolds was training to fly the B-26 when she learned that the WASP program was being shut down. Reynolds has spent her life on a mission to tell the stories of how women served their country during World War II, saying, "Before we are all gone, we're trying to get the word out – we were there."