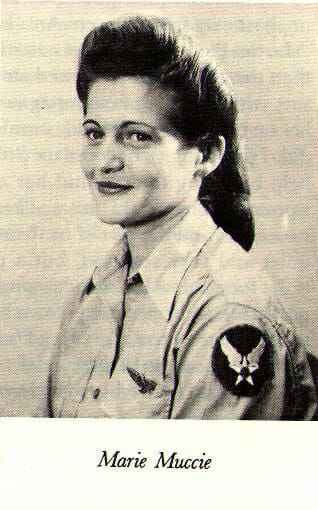 "We can use you." That's what Jackie Cochran, wartime head of the Women Airforce Service Pilots (WASP), told young Marie Muccie after looking at the 300 hours in her flight log during an interview. Marie had a big hurdle to cross before she could join the WASP, though – she had to get parental consent, as she was about six months too young to join without it.
Marie's parents believed daughters were meant to be married off, but after finally convincing her father to give permission, she traveled to Texas and began WASP training.
After graduation, she ferried aircraft while assigned to New Castle Army Air Base in Wilmington, Delaware, Love Field in Dallas, and Fairfax Field in Kansas City. Marie flew the L4-H, PT-19, BT-13, AT-17, AT-10, C-73, UC-78, B-25, and of course, the AT-6 – possibly even the exact AT-6 Texan operated by WASP Squadron known as "Nella."
While delivering a B-25 from Kansas to Texas, Marie met Captain Michael Genaro. The couple married soon after, and went on to have four children.
In the 1970s, Marie was involved in the effort to secure veteran status for WASP. Later, she moved to Florida where she started a health store and worked as a nutritional consultant.