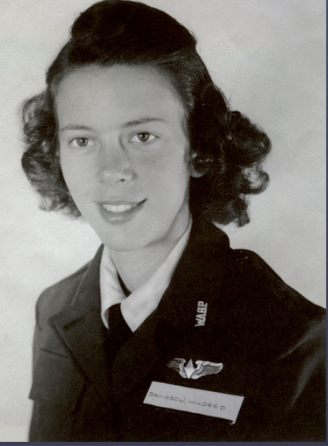 "I was the absolutely minimum of everything that you could be to get into the WASP. I thought I could, and I applied myself and I made it. I think anybody who really wants to do something very bad, if they work at it, and they focus, and they concentrate, they can do it." – "Millie" Inks Davidson Dalrymple (February 14, 1920 – November 14, 2012)
Millie joined the Women Airforce Service Pilots (WASP) program in 1943 with a good friend after they both became widows from war. After graduating from training at Avenger Field in Sweetwater, Texas, Millie was stationed at Maxwell Field, Alabama.
Millie became a second lieutenant and served as a utility pilot, a test pilot and frequently transported officers and emergency personnel stateside during WWII. She flew a number of different aircraft including Boeing PT-17s, B-24 Liberators, Twin-Engine Cessnas, and of course our favorite, AT-6 Texans.