Shirley C. Kruse
Class 44-W-6
"My time spent as a WASP was a never to be forgotten adventure, a great preparation for the wonderful experience of all that my life was to become." – Shirley C. Kruse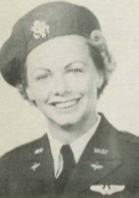 Shirley Kruse's passion and interest in aviation began as a child. It was a family tradition to go on Sunday drives, and on one such occasion, the family passed the Teterboro Airport in New Jersey. Kruse saw a sign advertising $5 airplane rides, and asked her father if she could have one for her 10th birthday present. Her father responded, saying "Girls don't fly." Her mother, however, said, "Shirley, if you want to fly, you will fly."
It would take nearly a decade before another flying opportunity would present itself. While visiting friends in New York State, Shirley would get a taste of flight in a Piper Cub. Soon after Kruse began flying lessons on weekends in Newburgh, New York.
While Kruse was taking flying lessons, she learned about the WASP program. Kruse sent in her application, and was accepted to be part of class 44-W-6. Like the other WASP, Kruse was trained at Avenger Field in Sweetwater, Texas. Upon graduation, she received her coveted silver wings, which she wore proudly on her chest. Kruse received orders to go to Bainbridge Army Air Field in Georgia, where she would flight test aircraft which had been repaired, as well as ferry airplanes to other regional bases.
Kruse was sent back to Avenger Field in late in 1944 for an instrument training course. While she was there, Jackie Cochran, head of the WASP program flew in to join the trainees, explaining that the WASP program had been shut down. Kruse and the others sat on the flight line, in their uniforms, listening to the disappointing message.
Kruse, like many of the other WASP, went on to find work after the program ended. Kruse returned to New Jersey where she would become a proofreader for Bendix Aircraft Company in Teterboro. Following the War, Kruse would go on to start a family and have three daughters. She currently lives in Palm Coast, Florida.